The Goals of Online Traffic Schools
Life is full of unexpected twists and turns and you never know what might be waiting for you around the corner. One day you may be driving and here it is - you've committed an infraction and got a traffic ticket. Something like that can put a definite damper on all of your plans. And we don't exaggerate it when we say "all" - even if your infraction is completely minor, it can still make your insurance rates go up.
This can potentially mean your vacation plans going out the window. Or you not being able to buy something you've dreamed about for a long time. Or you having trouble paying your bills. Or... The list of possibilities is pretty much endless, but one thing remains certain - there's a high possibility of you having to make serious adjustments to your lifestyle.
But it's completely possible to avoid all this. A perfect way out of this predicament is you completing online traffic school course. Not only it can mask the traffic violation you've committed, but it can also save you insurance money and you won't have to alter any of your long-term intentions.
Note: The proof of your completion should be delivered directly to the DMV, because the sooner all of this is put behind you, the better.
Saving Your Money by Reducing the Insurance Rates
In most cases, you can reduce your insurance rates after finishing the school and save a nice chunk of money while doing so. However, there're some criteria that must be met for this to become reality:
State-licensed course;
The insurance firm you're dealing with must have this particular discount among its services;
You must meet the requirements for the discount.
General Information
The idea of taking a traffic course might seem daunting at first, but there's basically nothing you need to be afraid of. It won't take up much of your time, you won't have to make serious changes to your lifestyle to successfully finish it and you can go through it on your own terms. How you go about completing the course is entirely up to you.
Every chapter has a quiz that compiles all the important content from that chapter. Each quiz has 10 questions and you're required to get a score of 70% or higher to continue to the next chapter. The feedback should be given to you on the incorrect answers. The best part is - there're usually no limits on the amount of times the quizzes can be retaken.
The course completion deadline is typically determined by the court. In a lot of cases, the schools give you quite a bit of time to go through the course - more than 1 year. But the court is the main decider here and you need to take that into account before committing to the course.
If you fail to complete the course within the time set by the school, it becomes possible for the organization to terminate you. Should that happen, you won't be able to get a refund.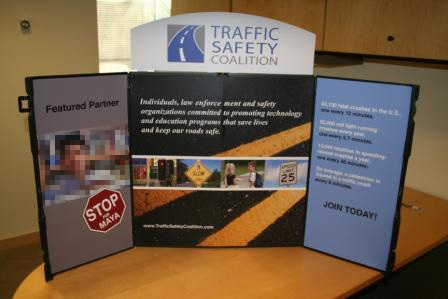 We are The Traffic Safety Coalition
TSC is funded by the traffic safety camera industry and its supporters to assist ongoing advocacy and education efforts of traffic safety experts, law enforcement, public officials, victims' advocates, health care professionals and concerned citizens committed to making our roads and intersections safer for drivers, passengers, and pedestrians.
TSC partners share a commitment to traffic safety. No TSC partner organization or individual is compensated for their involvement.
The Traffic Safety Coalition received the 2011 Peter K. O'Rourke Special Achievement Award from the Governors Highway Safety Association for outstanding achievements in highway safety.
About Us →